News
Back
IMAGINARIUM_HOW CREATIVE INDUSTRIES ARE RESHAPING SUSTAINABILITY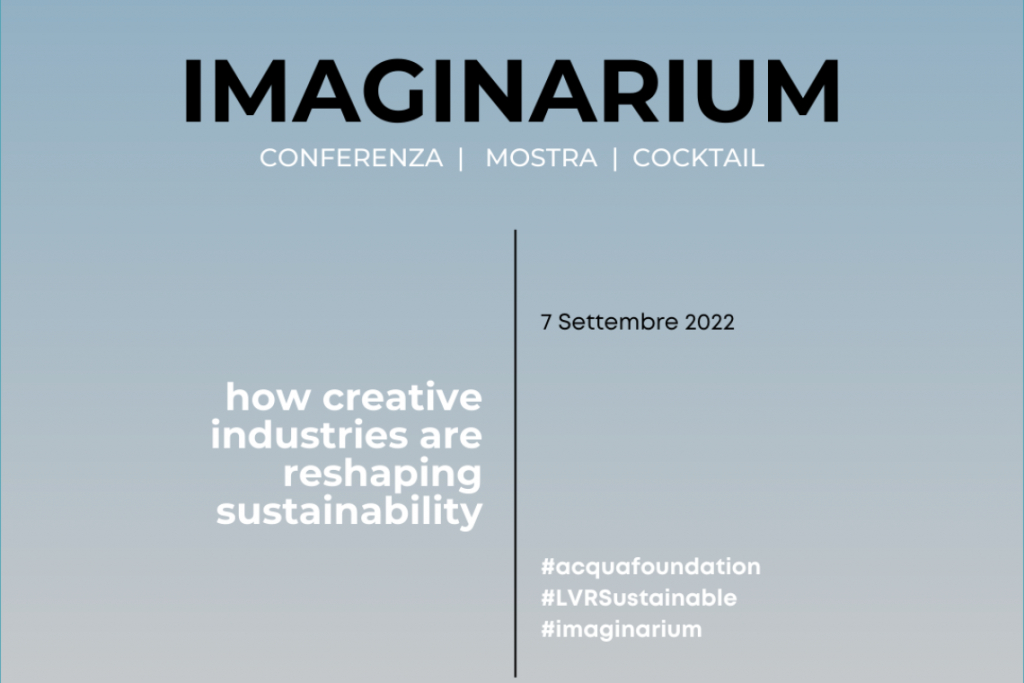 September 7th, 2022
Fondazione Riccardo Catella
Milano
The ongoing and clear inability to end the environmental crisis is one of the greatest public problems related to the scenario we are facing. Humanity has never been confronted with a more complex, ambitious and far-reaching challenge than stopping the meltdown of our ecosystem and stabilising the climate. Against this background, the creative industries, both in terms of their impact and resonance with the public, play a key role in identifying long-term sustainable solutions and contributing to influencing individual behaviour. To investigate these issues and stimulate the role creative industries can play in change, Acqua Foundation and LVRSustainable by LuisaViaRoma are organising, in collaboration with the Fondazione Riccardo Catella, in the role of Cultural Partner: IMAGINARIUM, an event featuring two main moments:
a conference a conference in which various representatives of creative industries discuss sustainability and current changes, sharing ideas to be implemented over the coming months
an art project on sustainability, including site-specific installations by the artist Marion Baruch, who uses discarded threads and textiles recovered from fashion house workshops.
Today, the creative industries in Italy generate an annual turnover of over 200 billion euro and employ around 2 million people. These are sectors with great added value and are strategic for the country's competitiveness, with the opportunity to create a system and lead a renewal and cultural paradigm shift at a national and European level, aimed at a sustainable industry transformation. In a general context that has witnessed a series of emergencies, the ecological transition is indeed a solution that enables long-term growth enriched with new sustainable values and objectives.
The following speakers will discuss these opportunities and proposals at the conference:
Tommaso Sacchi – Councillor for Culture of the City of Milan, Alessandra Rossi – LuisaViaRoma CEO, Gabriele Bonfiglioli -Acqua Foundation  Co-founder, Luca Travaglini – Planet Farm Founder, Davide Bollati – Chairman of the Davines Group, Carlo Capasa – President of Camera Nazionale della Moda Italiana, Fernanda Hernandez – Head of Sustainability LuisaViaRoma, Andrea Rosso – MYAR Founder & Diesel Sustainability Ambassador, Stefano Boeri – Founder of Stefano Boeri Architetti and President of Triennale Milano, Kelly Russell Catella – the Riccardo Catella Foundation Managing Director and the COIMA Head of Sustainability and Communication, Fabio Novembre – Founder of the Fabio Novembre firm, Valentina Cerolini – Deesup Co-founder & CEO, Ginevra Rossini – Digital Entrepreneur & Investor, Anja Leuenberger – Model, Founder of Wild Plant Food, Andrea Conte – Visual Artist and Environmental Engineer Ph. D. Owner at Climate Art Project and Andreco Studio, Noah Stolz – Curator, Head of The Stella Maris Archive, Francesco Perrini – Professor of Economics and Business Management of the Department of Management and Technology at Bocconi University Director of the Sustainability Lab and President of the Bocconi Sustainability Committee.
The conference will be moderated by journalist Chiara Albicocco.
To enhance the link between art and social commitment and the means of communication that best represent the ongoing transformations and challenges IMAGINARIUM will include a presentation by Marion Baruch at the Riccardo Catella Foundation. Her works return life to something that would otherwise be lost, "wasted", and provide a link with the "brand" Baruch had invented some time ago, when she used her pseudonym "Name Diffusion", to underline the importance of fashion and art from a relational and social point of view, and not just a commercial one.